It seems the topic of old people has been on my mind a lot this week. On Wednesday my maternal grandpa would have turned 100 years old. He died at 88 1/2, so he lived a very long life. My grandma is still alive and kicking (butt) at the age of 96. Yes, she's a little slower and a lot deafer and requires constant care (which requires my mom to go tend her every other weekend) but she's sharp as a tack up there (taps side of head). She can tell you the names of all her grand kids, great-grand kids and great-great grand kids. (Yes, that's FIVE generations!!) She can tell you most of their birthdays or at least the general time they were born.
This is my grandma at my dad's funeral. No, she doesn't have a black eye. That thing's been there for as long as I can remember. I don't know what it is. DeNae, do you?
And on that same Wednesday I ate breakfast with my very good friend
Kristina P
. Who is doing something really, really great. She's doing a "Snuggies for Seniors" drive. If you don't know Kristina then A: you're really missing out on one of the funniest people ALIVE and B: she's kind of obsessed with the Snuggie. And by "kind of" I mean it consumes her every living, breathing thought.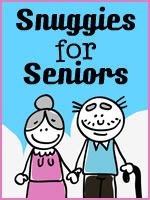 Oh my heck, I did it!!! I "grabbed the button" and I put it on here! I've never done it before! YAYAYAYAYAYAY meeee!!! I don't know how to get rid of that line next to it, though. Baby steps.
So please, click on those cute little old people and do your part to keep these geezers warm! I know I will be!
After all, if we didn't have old people who else would give me a 10% tip???